With its rich, chocolatey, hazelnut flavor it's no surprise people are going crazy over this stuff. Nutella has been around for a few years, but recently it has gained popularity. Steak' N' Shake even came out with a Nutella milkshake, which if you haven't tried, is absolutely delicious. Nutella is great because it goes with almost anything. You can use it to make a sandwich or use it as a dip for fruit. With its sweet and decadent flavor you can bet it can be used to make some extra yummy treats like these.
"Nutella Cheesecake Bars Recipe" (rasamalaysia.com)
INGREDIENTS
2 cups Oreo crumbs
1/4 cup unsalted butter, melted
16 ounces cream cheese, at room temperature
2 eggs, at room temperature
1/2 cup granulated sugar
1/4 cup + 1 tablespoon heavy cream
1 vanilla bean, halved and seeds scraped (or 1 tsp vanilla extract)
1/3 cup Nutella
DIRECTIONS
Preheat oven to 325F (170C). Butter an 8×8 baking dish and line with parchment paper, making sure that the parchment is well pressed in the corners. Set aside.
In a food processor, pulse Oreos until they become crumbs. Add in melted butter and pulse until moistened. Press Oreo mixture evenly into the bottom of your baking dish. Bake crust until set, about 12 minutes. Set aside to cool.
Clean out the food processor. Add cream cheese, eggs, sugar, ¼ cup heavy cream, and vanilla. Pulse until smooth. Put 2/3 of the cream cheese mixture in a bowl and set aside.
Add Nutella and 1 tablespoon of heavy cream to the remaining 1/3 cream cheese mixture in the processor. Pulse until smooth.
To assemble, spread the plain cheesecake mixture over the cooled Oreo crust, being careful of the crust. Then pour the Nutella cheesecake layer on top of the plain cheesecake layer and spread evenly.
Bake on the center rack of the oven for about 35 minutes, or until the center jiggles slightly. Remove from the oven and cool completely on a cooling rack. Refrigerate for at least 3 hours.
When ready to serve, lift the bars out of the pan by lifting up the parchment paper (it should release easily). Cut into 16 squares and serve.
"Nutella Banana Bread" (chef-in-training.com)
INGREDIENTS
2 cups flour
¾ teaspoon baking soda
½ teaspoon salt
¼ cup butter, softened
1 cup sugar
2 large eggs
1¼ cup mashed ripe bananas
1 teaspoon vanilla
⅓ cup milk
¾ cup Nutella
DIRECTIONS
Preheat oven to 350 degrees F.
Spray 9×5-inch loaf pan with nonstick spray.
In a medium bowl, whisk together flour, baking soda & salt.
In a separate large bowl, cream sugar and butter together. Add eggs, one at a time, beating well after each egg is added. Add mashed bananas, milk and vanilla and beat until well combined. Add flour mixture, beat at low speed just until flour is incorporated (don't over mix).
In a small microwave save bowl, add Nutella and heat for 15 seconds. Stir to evenly mix heated Nutella. Add 1 cup of the banana bread batter to the Nutella and stir until well mixed.
Spoon Nutella batter alternately with plain banana bread batter into the prepared loaf pan. Swirl batters together with a knife.
Bake 50 to 60 minutes. Cool in pan for at least 15 minutes and then remove loaf from pan and place on a wire rack to cool completely.
"Nutella Crescents" (thenovicechefblog.com)
INGREDIENTS
1 9-inch pie dough (store bought or homemade)
1/2 cup Nutella
1 tablespoon butter, melted
coarse sugar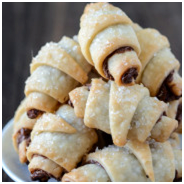 DIRECTIONS
Preheat oven to 400°F. Line a baking sheet with parchment paper, set aside.
Roll out pie crust into a 9 inch circle (or if it's store bought…open the package and unroll the pie crust) and slice into 18 triangles (like you would a pizza).
Spread each triangle with a healthy amount of Nutella. Roll into a crescent, starting with the wide end. Continue till all triangles are filled with Nutella. Transfer crescents to baking sheet, leaving about an inch for possible spreading.
Brush the top of each Nutella crescent with the melted butter and sprinkle generously with coarse sugar. Bake for 10 – 12 minutes, or until they are lightly golden brown.
Remove from oven and serve immediately, or store in an airtight container for up to 3 days.