If you are anything like me, you will do whatever it takes to hold onto the cool winter weather. Lucky for us, North Florida has decided to continue blessing us with delightfully chilly temperatures! One of the best parts of the winter season is the sweet treats that come with it, and what better way to end your day than snuggled up on the couch with a cup of hot chocolate? This classic hot beverage is enjoyed by people of all ages, but you might not know that it can be so much more than a drink. Here are a few ways that you can turn this cold weather favorite into a delicious dessert!
Hot Chocolate Cookies (by averiecooks.com)
INGREDIENTS
1/2 cup unsalted butter
one 12-ounce bag semi-sweet chocolate chips
1 1/4 cups light brown sugar, packed
3 large eggs
2 teaspoons vanilla extract
1/4 cup unsweetened natural cocoa powder
1 1/2 cups all-purpose flour
1 1/2 teaspoons baking powder
1/4 teaspoon salt
about 8 ounces dark chocolate, diced into 1/2-inch pieces (I used a Trader Joe's Pound Plus Dark Chocolate Bar)
about 12 large marshmallows, cut in half
DIRECTIONS
To a medium, microwave-safe bowl, add the butter, chocolate chips, and heat on high power to melt for 1 minute. Stop to check and stir. Heat in 15-second bursts, stopping to stir after each burst, until chocolate has melted and can be stirred smooth (You'll likely only need 1 or 2 bursts). Alternatively, melt the chocolate chips and butter in a medium saucepan over low heat, stirring constantly until just melted. Allow melted chocolate mixture to stand for 5 minutes to cool slightly.
To a separate large bowl, add the brown sugar, eggs, and vanilla. Beat with a handheld electric mixer on medium speed just until blended, about 1 minute.
Add the cooled chocolate mixture and beat on medium speed until just until combined, about 1 minute. Stop and scrape down the sides of the bowl.
Add the cocoa powder, flour, baking powder, and salt. Beat on low speed just until combined, about 1 minute. Stop and scrape down the sides of the bowl. Cover bowl with  plasticwrap and refrigerate for 2 hours, or until dough has firmed up significantly. If you accidentally over-chill it and it becomes too firm, allow bowl to rest on counter until you can scoop it.
Preheat oven to 325F. Line a baking sheet with a Silpat or spray with cooking spray. Using a 2-tablespoon cookie scoop form dough mounds and place them on the baking sheet, spaced at least 2 inches apart (I bake 8 cookies per sheet). Flatten slightly and bake for 10 minutes, or until edges and tops have just set, even if slightly undercooked and glossy in the center.
Remove baking sheet from oven, add 1 piece of dark chocolate to the center of each cookie, pushing down very slightly just so it breaks the surface and sinks down.
Place one marshmallow half on the top of each piece of chocolate on all the cookies, pushing down very slightly so the marshmallow adheres.
Return baking sheet to oven and bake for about 5 minutes, or just until marshmallows have puffed; don't let them brown and don't overbake. Cookies firm up as they cool. Allow cookies to cool on baking sheet for about 10 minutes before serving. I let them cool on the baking sheet and don't use a rack.
Cookies will keep airtight at room temperature for up to 1 week. Alternatively, unbaked cookie dough can be stored in an airtight container in the refrigerator for up to 5 days, or in the freezer for up to 4 months, so consider baking only as many cookies as desired and save the remaining dough to be baked in the future when desired.
Hot Chocolate Cupcakes (by meandmypinkmixer.com)
INGREDIENTS
Cupcakes:
1/2 cup plus 1 tbsp. Dutch-process cocoa powder
1/2 cup plus 1 tbsp. hot water
2 1/2 cups flour
3/4 tsp. baking soda
3/4 tsp. baking powder
1/2 tsp. salt
2 sticks plus 1 tbsp. unsalted butter at room temperature
1 2/3 cups sugar
3 large eggs at room temperature
1 tbsp. vanilla extract
3/4 cup sour cream
Frosting:
2 sticks (1 cup) butter at room temperature
3 cups powdered sugar
1 package hot cocoa mix
1 – 2 tbsp. heavy cream
1 tsp. vanilla extract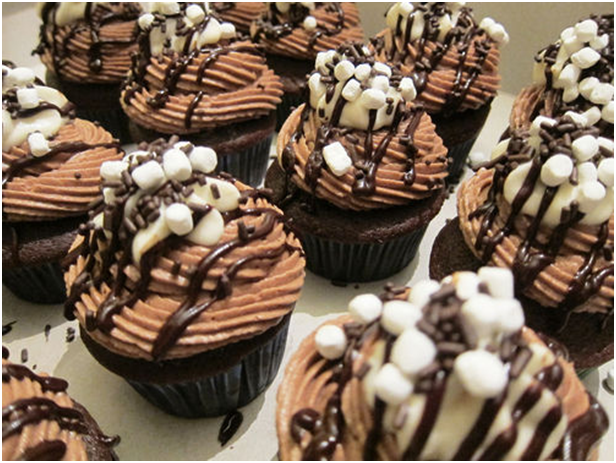 Cupcakes:
Preheat oven to 350 degrees. Line cupcake pan with paper liners. In a large mixing bowl, whisk together flour, baking soda, baking powder, and salt; set aside.
In a small bowl, combine cocoa powder and hot water and whisk until smooth.
Combine the butter and sugar in a saucepan over medium heat. Cook, stirring occasionally, until the mixture is smooth and butter is completely melted. Transfer the mixture to the bowl of an electric mixer and beat on medium-low speed until the mixture is cool, about 4 to 5 minutes.
Add the eggs one at a time, mixing well after each addition and scraping down the sides of the bowl as needed. Blend in the vanilla and then the cocoa mixture until smooth. With the mixer on low speed, add the flour mixture in three additions, alternating with the sour cream, beginning and ending with the dry ingredients and mixing each addition just until incorporated.
Using a large cookie scoop, fill prepared liners with batter, using one scoop per cupcake. Bake about 18 to 20 minutes, rotating the pan halfway through baking. Let cool in pan about 5 minutes, then transfer to a wire rack to cool completely.
Frosting:
In the bowl of an electric mixer, cream together the butter, powdered sugar and vanilla for 2 to 3 minutes on med-high speed. Lower the speed and add the hot cocoa mix and milk. Beat for another 3-5 minutes until light and fluffy. Frost cooled cupcakes.
Garnish with marshmallows and fudge drizzle.
Hot Chocolate Poke Cake (by chocolatechocolateandmore.com)
INGREDIENTS
¾ cups milk, warmed
2 packets hot chocolate mix (.85 ounces each)
1 box chocolate cake mix
3 large eggs
¾ cup light sour cream
½ cup vegetable oil
1 teaspoon vanilla extract
For the topping:
1 jar hot fudge sauce (about 13 ounces)
1 ¾ cups heavy whipping cream
4 packets hot chocolate mix (.85 ounces each)
DIRECTIONS
Preheat oven to 350° F.
In a microwave-safe bowl or mug, heat milk for 60-90 seconds until hot. Add 2 packets of hot chocolate mix and whisk until powder is dissolved. Set aside.
In a medium-sized bowl, combine cake mix, eggs, sour cream, vegetable oil and vanilla extract. Add mixed hot chocolate and beat on medium – high speed until all ingredients are well blended. Pour into a 9-inch by 13-inch pan and bake at 350°F for 20-24 minutes until cake is set. Test cake by inserting a toothpick into the center. If the toothpick comes out clean, the cake is done. Allow to cool for 20 minutes.
While the cake is still warm, take the end of a wooden spoon or another round object and poke holes all over the top of your cake.
Heat jar of hot fudge sauce according to the instructions on the jar. You may want to spoon into a bowl to make it easier to stir without bubbling over the top. Pour hot fudge sauce over top of cake so that hot fudge fills in the holes. Save a few tablespoons to drizzle on top. Allow the cake to completely cool.
Place metal bowl and whisk in freezer for about 15 minutes so they are good and cold. Pour heavy whipping cream into mixing bowl and beat on high until bubbly. Add hot chocolate mix and continue to beat until stiff peaks form. Spread over cooled cake. Drizzle with any leftover hot fudge sauce. Cake must be refrigerated after adding the whipped cream.